Member of:

Willamette Writers

Sisters in Crime

Friends of Mystery
©2006-2022
Linda Kuhlmann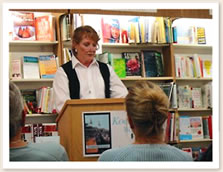 Linda Kuhlmann grew up in Illinois and moved to Oregon over thirty years ago. She has been writing most of her life, but her fiction always took a back seat to her job as a Systems Analyst. During her work, she wrote training materials for the various computer software classes she taught.
After retirement from her day job in 2004, she began her new career as an author. Her first novel, Koenig's Wonder, was published in October, 2004. Since her readers didn't want to let the characters go and it is a 'Triple Crown' sort of story, Linda wrote two sequels, Koenig's Spirit and Koenig's Promise.
The Red Boots, released in 2011, began life as a screenplay and has since been rewritten into a novel. However, Linda still thinks of the story as a movie in her head.
In marketing her work, Linda enjoys speaking to groups of writers, schools and service clubs about her experiences. She's held numerous readings and signings throughout Oregon and across the nation.
Contact Linda Kuhlmann.